By way of introduction to Jose V. Ayala, I will read to you a few paragraphs from a biographical sketch written for an issue of the Road Map Series that featured some of his more notable visual works. The biography was aptly entitled "Something Curious Happened to Joe Ayala", to wit: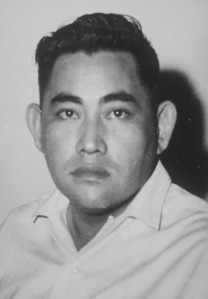 "In the Sixties he was one of the country's leading short story writers in English, depicting with existential realism the life of the peasant farmer, the dockworker, the priest and the deranged convent girl, a government man, beauty and beast in a circus, prisoners in a lonely mountain-locked existence. He won major prizes for his works some of which were printed in Asia and elsewhere. He was reprinted twice in Short Story International. He was in his mid-thirties.
Then early in the Seventies, and as abruptly as he quit smoking five packs of Kent a day, he stopped writing and began to paint."1
The truth is, he never really stopped writing as soon as he began to paint. In fact, even as he was practicing with watercolors and a Chinese brush, his prose came out in five magazines one after the other. He published a surreal play; won the Palanca Prize in Fiction once, the Free Press Short Story twice; has been published in New York, Hong Kong, India and Germany. In 1989, quite out of the blue, he published a book of poetry in a limited edition of 500 copies and simply called "Poems for the Country of E". This was the last of his literary works prior to his demise on December 7, 2002.
He did stop publishing his literary works from 1989 onwards. A few hypotheses had been put forward by his friends, peers, and family. Some of his old friends thought that his rising fame as a writer gave him cold feet, stressed him out so much that he decided to just turn around and "change careers," so to speak.
In a similar light, others thought he had decided to change careers out of the desire to "quit while he was ahead". My father being such a die-hard "segurista" in a lot of things made this a more plausible theory. However, there was one other speculation, and this is my personal favorite: He thought that the printed word could never really allow him to portray with enough vividness and absoluteness all that he saw with his mind's eye.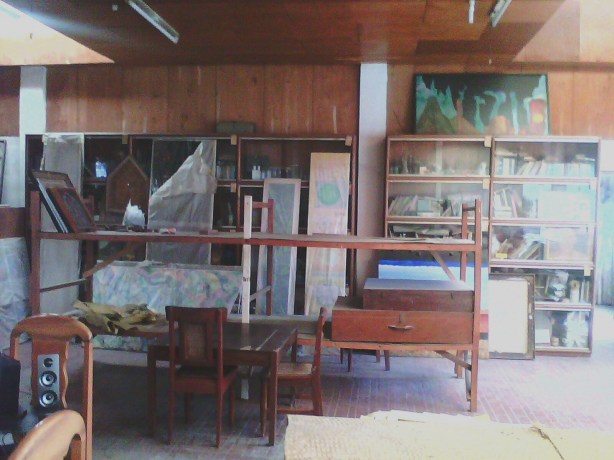 My siblings and I grew up amidst all of dad's continuous studies and experiments in his painting career. Evidence of how methodical he was in exploring the parameters for expressing himself was scattered in orderly disarray amongst his bookshelves and in his painting studio. Recollecting the range and breadth of the subject matter on the shelves, I can surmise now that, until he was hospitalized in 1996, he had been actively engaged in studies of western and oriental spirituality, conventional and avant-garde visual arts, the occult and even studies on the possibility of extraterrestrial life. To complete the collection were several books on psychology, especially the field relating to Color Psychology2. From all this research one thing was clear, Dad continuously explored looking for common denominators to the human experience; archetypal visual symbols that would impart his messages to his audience regardless of cultural milieu.
In vindication of all these studies and of how well my father was able to express what welled up from his personal fount of creativity, his paintings resonated with poetry as well as his written works had been packed with the palpable impact of paintings. For those of you who have read some of his short fiction like "The Mountain" and "Rice" along with some others that appear in college textbooks on Philippine English literature, the sometimes savagely raw– almost chaotic– strokes that his prose painted almost perfectly matched the lyrically jagged edges of color and line in some of his later visual works, especially in his explorations with acrylic and oil. In almost musical counterpoint are "The Wheel" and his mandala-like works, where an almost identical trance-like sense of balance is achieved in both.
From these and other analogies between his visual and literary works, it is easy to see, and say, that the conception of his singularly unique brand of abstract art had occurred while he was still publicly considered a writer.
Dad started to paint in 1967. Fault, if one were to point fingers, could be pinned on the Indios Bravos, that rendezvous of avant-garde writers and painters. There, induced by example, he started to do "interaction" sketches with some of the habitués of the place. Federico Alcuaz saw his work and encouraged him. Thus inspired, he worked in a frenzy, producing more than five hundred works in all kinds of media that he could get his hands on from April to December 1967. He produced hundreds more since then, and his works to-date number a bit over a thousand. Sadly, he never had the opportunity to show much of this prodigious output. In fact, what he exhibited in his first one-man show at the Solidaridad Galleries in April of 1973 was just a fraction of his production.
The synchronicity present in both his prose and his visual works I consider to be a testament to his having been truthful to himself as a writer, as a painter, and as a person. Whether it was bad or good for other people (family included) and for the state of Philippine Art, we will never really know. The truths he found and painted on his canvasses are lost to us now, but the legacy of his art is here to stay, and with it, a form of abstract art that is, and mayhap forever will be, Joe Ayala.
Did he really stop writing? I leave that up to you to decide, together with a poem from his book of poetry:
When ninety,
And you still
Find me folded in
wrinkles; no
longer the pulsing
life you crave;
then quench your fire deep
in my eyes,
where summer still plays
a lifetime
of passions unspent.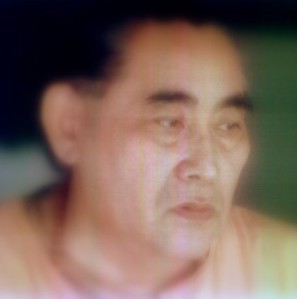 1 ayala the painter. Road map series vol. 1 no. 23). copyright 1986 by Jose V. Ayala. Published by Road Map Series. Printed in Davao City, Philippines. All rights reserved
2 Color psychology is a field of psychology devoted to analyzing the effect of color on human behavior and feeling
---
Author's Note;
Originally published on March 11, 2011 in my first attempt at a blog called DaddyTechie on WordPress.com. I wrote this piece on my mother's prompting, to give as a talk on my father in a student workshop held at the Ateneo de Davao University.